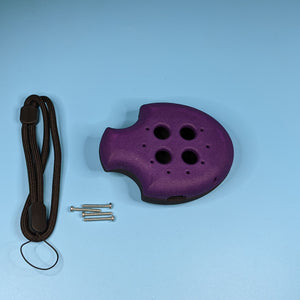 Puck, Puck, Bruce! Mod Shell Kit - Limited Edition Deep Purple/Black
Final Batch of 2021 - Ships 12/1/2021

Follow the adventure here.
Puck, Puck, Bruce! is remixed, new take on the best-in-class Hoyt St. Electric Puck Remote Control. 
This is a limited edition custom PPB Mod Shell Kit, limited quantities available. 
PPB Mod Shell Kit includes top & bottom shells, 4x M2.5x20mm button head bolts, & a high-quality wrist-leash.
You supply your own Puck Guts (internal electronics). Pictures show remote fully assembled but internals are not included in the Mod Shell Kit. 

Example Colored Renders Found Here.
This was a collaborative effort with our local friends at Hoyt St. Electric as we took their top-tier Puck Remote Control and designed a new style grip shell inspired by our own OSRR/FreeSK8 'Bruce' remote, along with the help from our community forum members giving feedback on design iterations!

These are being printed professionally via Nylon SLS process and are available in a variety of colors. 
As part of our open source mission, we've published all relevant 3D Shell Models under a CC-BY-SA 4.0 Intl OS License- all the design revisions are available free for anyone to print, use, or remix however they see fit. 
---
We Also Recommend